Healthy Organizations
Where are we going? Why are we working? What good will our organizations do? How will they serve others? What environment must an organization maintain to perform its duties? How do we design our business systems to generate products, services and wealth, while developing its workforce and serving the larger environment and community on which it depends? Thinking systemically and embracing the heart of service is key to answering these questions. All the varied roles we play, our tools, methods and strategies are brought to bear in creating and sustaining organizational health.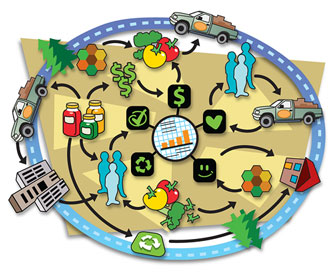 Our Products and Tools:
The Model of a Healthy Organization: Four Traditions
Creating Health by balancing stability and change: One of the primary roles of a Leader is as a designer of health. There are two primary and underlying design elements leaders use to create and sustain healthy systems. Download this complimentary tool to better understand your design preferences and to begin your own organization design process.
Facilitative Leadership model: (Facilitative) Leadership is the individual's or organization's capacity that enables profound change,improvement and fulfillment. Facilitative Leadership is gained through awareness, practice and experience. Download this complimentary tool to gain a visual overview of the role of Facilitative Leadership and how it interacts with all levels of an organization.
Yoga Practice #1 - A Meditation of Breath and Awareness: Start wherever you are at this very moment. There is no need to change your immediate circumstance for this yoga practice. Download this complimentary yoga routine.
Practices and Principles of Healthy Organizations: A healthy organization effectively and efficiently achieves its goals and realizes its vision, which includes and benefits all involved. How do we claim this health in our organizations for the long term, after the idea has caught on and daily work is about sustaining rather than creating the organization's health? Download this complimentary tool for some practices and principles of healthy organizations and some simple ways you can get started in your journey toward health.
Defining Healthy Systems: In this article, the semantics of the words "Health" and "Systems" are explored. Download this complimentary article to gain a better understanding of what defines a healthy system.
Ten Ways to Build a Healthy Organization: The potential for health and vitality, in individuals and organizations, is always present, waiting to be unleashed. "Unhealthy workplaces" with out-of-balance cultures are, in fact, full ofcreative potential. To remove the blocks to vitality, and re-focus the flow of creativity released in the process, start with a clear understanding of what you and your organization are aiming for — health. Download this complimentary tool.
The Yoga of Leadership and Healthy Systems Model, Practices and Associated Questions to Create and Sustain Health: Use this tool to assess your organization's readiness to create and sustain vitality, productivity and purpose. Download this complimentary tool.