The ABCs of Change
Information and Insights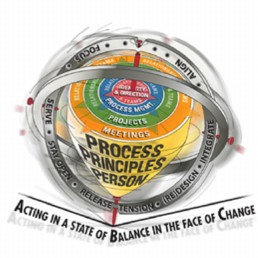 Healthy systems, both individuals and organizations, Act from a state of Balance in the face of Change.
Leaders conduct meetings and act on long-range planning within an ever-changing environment. Circumstances change day to day. It takes balance to navigate these changing waters and shifting tides.
Ultimately the locus of control to find balance and act from it lies within each of us and within every member of your organization. Attitude plays a part. Some people seem better at change than others. Discipline and practice also play a part. How do individuals and organizations cultivate and maintain this state?
In addition to the knowledge, skills and abilities (KSAs) in our specialties and workplace expertise, a few core leadership practices help us to act from a place of balance in the face of change.
Tips:
• PRACTICE #1: The discipline to hold a healthy focus and a desired direction takes skill and discipline. Do you know what you want and do you remind yourself of it every day. Strategic planning and values clarification start you on this path but focus must be integrated into daily work such as performance management systems and process design.

• PRACTICE #2: Cultivate KSAs for designing your various activities to accomplish desired goals and strategies. For example, can you design an effective meeting agenda? Do you know how to design a realistic project plan?
• PRACTICE #3: A mindset of respect and experience in serving the larger system within which you operate enables you to move beyond limited perceptions and short sightedness. Humility, collaborative relationships, consideration of others and gratitude balance pride, and competitive and survivalist natures.
• PRACTICE #4: An openness to change is based on a faith and experience that change can bring opportunity and potential. New input and data signals the need for adaptation or resolve.
• PRACTICE #5: The KSAs needed to release the bottlenecks and habits that restrict us are many and varied. Operationally, you may have process bottlenecks that require process improvements. Interpersonally you may experience impasses that require skills in negotiation. Individually we all have blinders and face dilemmas that require new mindsets and creativity.